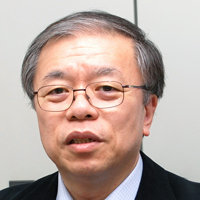 Name
Shinichi Kawai
Position
Professor Emeritus of Toho University
Professor, Department of Inflammation & Pain Control Research Toho University School of Medicine
Professional & Academic History
Mar 1977: Graduated from Keio University School of Medicine
May 1977: Trainee, Internal Medicine, Keio University Hospital
May 1979: Division of Rheumatology, Department of Internal Medicine, Keio University School of Medicine
Dec 1984: Guest Researcher, National Institutes of Health (USA)
Sep 1987: Medical Director, Division of Rheumatic Diseases, Tokyo Metropolitan Ohtsuka Hospital
Jun 1991: Assistant Professor, Department of Frontier Medicine, Institute of Medical Science, St. Marianna University School of Medicine
Apr 1995: Associate Professor, same department as above
Apr 1999: Professor, same department as above
Apr 2004: Professor, Division of Rheumatology, Toho University Omori Medical Centre
July 2005: Director, Rheumatic Disease Center, same division as above
Apr 2009: Vice Dean, Faculty of Medicine, Toho University
Jun 2012: Professor of Internal Medicine, Rheumatology Division, Toho University
Apr 2017: Professor Emeritus of Toho University
Apr 2017: Professor, Department of Inflammation & Pain Control Research Toho University School of Medicine (Endowed Chair)
Other Roles
Guest Professor: Keio University School of Medicine & St. Marianna University School of Medicine
Guest Instructor: Hamamatsu University School of Medicine & Faculty of Pharmaceutical Sciences, Toho University
Board Membership for Academic Associations
Member of the Board of Directors, The Japan Rheumatology Public Foundation
Member of the Board of Directors, Japan Reserch Foundation Clinical Pharmacology
Ex-Councillor, The Japanese Society of Internal Medicine
Ex-Councillor, The Japan College of Rheumatology
Ex-Member of the Board of Directors, The Japanese Society of Inflammation and Regeneration (President in 2006)
Ex-Councillor, The Japanese Society of Clinical Pharmacology and Therapeutics (President in 2006, administrative director 2006-2010)
Selected Awards
Japan College of Rheumatology Award (2003)
The Abbott Japan Award in Rheumatic Clinical Medicine (2009)
Selected Recent Publications

1) Tanaka N, Kusunoki N, Kusunoki Y, Hasunuma T, Kawai S. Resistin is associated with inflammation process in systemic autoimmune diseases under glucocorticoid therapy: comparison with leptin and adiponectin. Mod Rheumatol. 2013 Jan; 23(1):8-18.
2) Kitahara K, Kusunoki N, Takahashi H, Tsuchiya K, Kawai S. Tacrolimus down-regulates chemokine expressions on rheumatoid synovial fibroblasts: screening by a DNA microarray. Inflamm Res. 2012 Dec; 61(12):1385-1394.
3) Kaneko K, Kusunoki N, Hasunuma T, Kawai S. Changes of serum soluble receptor activator for nuclear factor κB ligand after glucocorticoid therapy reflect regulation of its expression by osteoblasts. J Clin Endocrinol Metab. 2012 Oct; 97(10):E1909-1917.
4) Kawai S, Takeuchi T, Yamamoto K, Tanaka Y, Miyasaka N. Efficacy and safety of additional use of tacrolimus in early rheumatoid arthritis patients with inadequate response to DMARDs – a multicenter, double-blind, parallel-group trial. Mod Rheumatol. 2011 Oct;21(5):458-468.
5) Kusunoki N, Kitahara K, Kawai S. Adiponectin enhances inflammation in rheumatoid synovial fibroblasts and chondrocytes. In: Preedy VR and Hunter RJ (Eds) Adipokines., pp 380-392, CRC Press, Jersey, 2011.