Medical Care System
Number of registered beds: 19
*For emergency transport of subjects, P-One Clinic is partnered with
Migita Hospital, Kowakai Medical co.
2 wards, 2 examination rooms, 1 treatment room (capable of handling multiple protocols)
2 recreation rooms reserved for volunteers
Conference room (outpatient waiting room)
Nurse station
Laboratory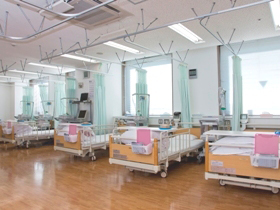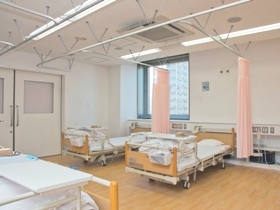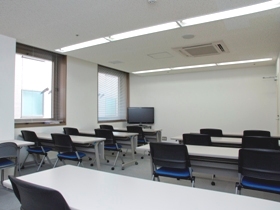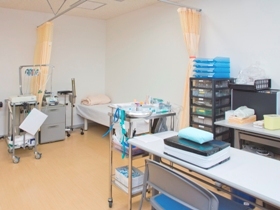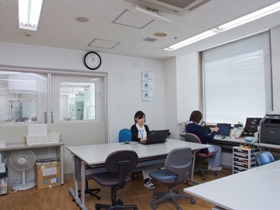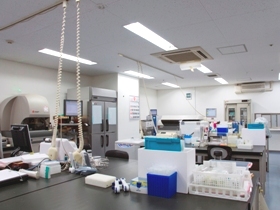 Fully-equipped Laboratory System
Main in-hospital measuring devices:
Biochemistry testing: Beckman Coulter AU680
Blood testing: Beckman Coulter DxH800
Urine testing: Eiken Chemical US-2200
Refrigerated centrifuge: 2 units made by Kubota
Table-top centrifuge: 2 units made by Kokusan
Sample storage: 2 deep freezers, 2 medical freezers, 5 regular freezers
A comprehensive testing system has been established to ensure higher precision of subject selection and to verify subject safety after drug administration.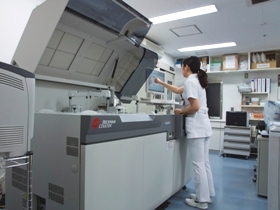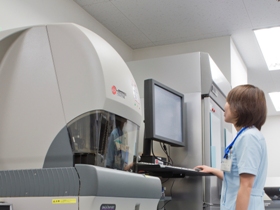 Operation of Barcoding System for Quality Assurance
Each study is managed using a barcoding system, which prevents mixing-up of samples and omission of tests.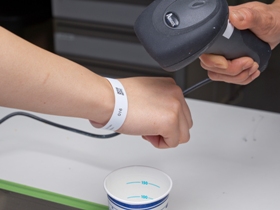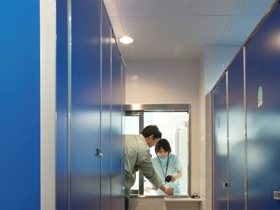 Investigational Drug Storage Room
This storage room is used exclusively for investigational drugs and can be locked (pharmaceuticals for general use are kept totally separate). A record is kept of when staff enter/exit or borrow keys. Both room temperature storage (1-30˚C) and cold storage (2-8˚C) needs can be accommodated (please consult with us if you require other storage conditions.)
The storage temperature can be monitored 24 h/day with a digital data logger. To enable maintenance of the investigational drug temperature in case of a blackout, a system has been put in place whereby the supervisor is contacted and measures are taken accordingly. (P-One Clinic is in the same building as Tokyo Electric Power Co., the largest power utility in Japan, and there are generally no power outages except during power supply inspections.)
ECGs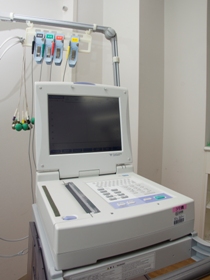 The clinic is equipped with 10 ECGs. Data can be submitted electronically.
Opthalmologic Devices
Digital fundus camera
Slit lamp
Opthalmic tonometer
Optometer
Other Measuring Devices
Scale for height and weight
Breath alcohol tester
Body composition measuring device
Infusion pump
Pulse oximeter
Breath rate counter
Hand dynamometer
Crash cart
Timekeeper System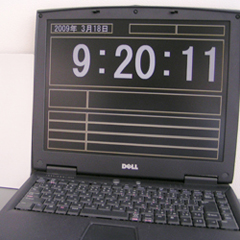 All tasks on the timetable for trials in progress are managed to the second (indicated by a sound). The timekeeper is operated in synch with an atomic clock.
Meal Management
There is a cafeteria inside the clinic. Meals in conformity with protocol can be provided by the dedicated nutritionist and dedicated cook.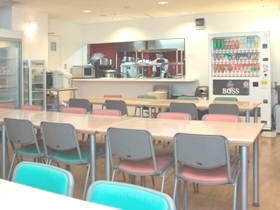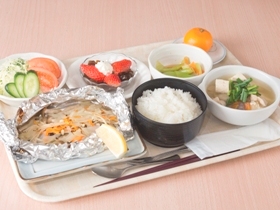 Security and Management of Entering/Exiting the Clinic
Entering and exiting of the clinic is managed via dedicated ID cards.
This prevents undesirable incidents such as subjects leaving without
permission. Moreover, there is a central control system governing entrances/exits and the automated locks can be closed or opened remotely.
Other Facilities
Private shower rooms (with nurse call buttons installed)
Electronic toilets (with nurse call buttons installed)
Subject consultation room (attached to each ward)
Yoga mats
Televisions (terrestrial digital broadcasting)
Internet
Comics, novels etc. (in English and Japanese)